Medieval France
Tour medieval sections of France including Paris, Guédelon, Orléans, Bayeux, and Mont Saint Michel.

Details
Flower Arts in France
An inspiring tour including visits to Versailles Castle, Monet's Giverny, and many locations around the Loire Valley.

Details
Culture of Nature - Hunting, Fishing, Forests, Rivers, & Gardens
Enjoy the romantic countryside pursuits of the French gentry. Includes lodging at the Fontevraud Abbey and a night in an authentic castle.

Details
Come and join us for the tour of a lifetime! We start in Paris and see the beginnings of the most beautiful city in the world. As we tour the medieval sections you will enjoy having a French guide who will explain about some of Paris' oldest areas. You will visit the oldest known section of the Louvre (1190), discovered as they began excavation for I.M. Pei's new Louvre entrance. Other sections of Paris we will visit include Notre Dame (1159), the Conciergerie (1319), the Sorbonne (1253), Cluny Museum (1220), Sainte Chapelle (1248), the Basilique of Saint Denis (1122), the Latin Quarter, and the islands. Don't worry; the Eiffel Tower is still on the agenda!

After Paris, we will go by coach and be guided around Guédelon, a medieval castle being built today, using the methods of that time period--and in full costume! From Guédelon, we will continue on to Orléans--a city liberated by Joan of Arc in 1429.

During our stay in Orléans, the Medieval festivities surrounding the Festival of Joan of Arc will be in full swing. We will visit the museum, have an architectural tour of the old town, and enjoy all the medieval festivities.

We will leave for Bayeux by coach and visit the old town and the beautiful tapestry purportedly made by Mathilde, wife of William the conquerer in 1066.

Once we leave Bayeux, we will continue by coach to Mont Saint Michel. Visiting Mont Saint Michel means not being afraid of a bit of climbing stairs! To get to the Abbey (1017) at the top, to see the view will give you the workout you need after all that French food! There is so much history here and our guide will continue to explain about the sights you are seeing. That same afternoon, we will continue on to Dinan (1300), a beautifully preserved medieval walled village.

After our stay in Normandy, we will head back to Paris, stopping at the Abbey of Royaumont (1228) for a visit, and then we will head for the Paris Airport Holiday Inn—if you are leaving! Otherwise, you are welcome to continue your stay on your own!

Back to Top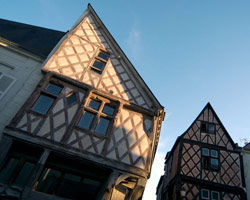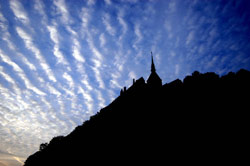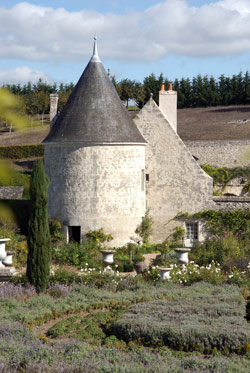 Our tour begins, of course, with the beautifully designed gardens of Versailles Castle. Le Notre was the architect of this enormous work as he was of Chantilly which we will also visit.

From the Paris region we will head to Giverny, the inspiration for so many of Monet's famous works. You will be inspired to keep your camera working!

Next, we head to the Loire Valley region where we will visit Le Parc Floral of Orléans and have a French bouquet making workshop, then to the private castle of La Ferté Saint Aubin where we will have a cooking demo using honey made from local flowers, and also a visit to Chamerolles for a workshop with a perfume nose who will demonstrate the making of a perfume.

Other spectacular gardens we will visit in the Loire Valley include Sully, Chenonceau, Chatonnières, Chaumont and Villandry.

Back to Top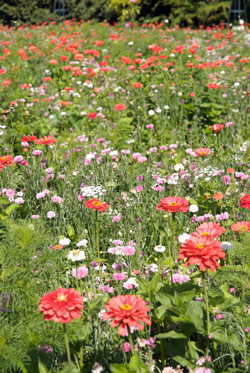 Culture of Nature - Hunting, Fishing, Forests, Rivers, & Gardens
Our visit begins at Fontevraud Abbey where we will be staying. The next day we begin our visits at Chatonnière gardens to see how beautifully the French can tame a hillside and valley. Following, we will visit the hunting museum of Montpoupon Castle and in the evening, we will have a presentation of hunting horns and the hunting dogs at Champchevrier.

Once we get to Cheverny we will have the opportunity to feed the hunting dogs that live and hunt from there. Next is a relaxing morning of fishing at the Domaine du Ciran in Sologne, a cooking demo in the afternoon in the old castle kitchens of La Ferté Saint Aubin, visiting the old "hunting lodges" (aka castles) of Chambord, Sully, Gien, La Bussière, as well as the hunting and fishing museums connected with these "lodges."

Also planned is a river/canal trip on the Briare Canal Bridge built by Eiffel and the very rare opportunity to follow along (either by bicycle or in a mini-van) a "Chasse à Courre" which is the traditional renaissance style hunt in full renaissance costume that still is practiced today. There is at least one castle stay on this tour. Options could include ballooning over the Loire Valley "hunting lodges."